wentzxxpete
life is like photography, we develop from negatives.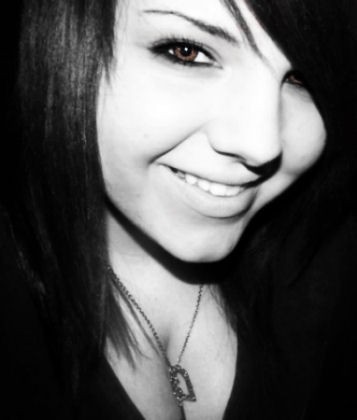 Top Friends
About Me
okay well hello everyone, my names samantha but please call me sam
i'm seventeen years young and i live in a extremely boring state of pennsylvania!

i really enjoy making layouts, basiclly its one of my hobbies
i spend alot of my time or the computer doing something.

honestly i dont care what people think of me
everyone has their own opinions and i respect that.

i like when people comment my layouts
and give me criticism on my work.

i have a really close relationship with my sister
we're always going or doing something together.

please please please don't steal my codes or images
i consider it really rude and lack of creativity!

and i would espically like to thank
ricky (anime.essence) for my layout!
| | |
| --- | --- |
| Name | Samantha Piorkowski |
| Gender | Female |
| Age | 18 |
| Location | Scranton, PA |
| Ethnicity | White / Caucasian |
| Interested in | Both |
| Status | Single |
| | |
| --- | --- |
| Interests | i'm really into photography, making graphics, bowling, going to the movies, doing my hair and makeup, sleeping, partying, dancing, singing, going on road trips, traveling, swimming, playing board games, relaxing, doing things on myspace, and so many other things |
| Music | 30 seconds to mars, alanis morissette, annie lenox, the academy is, aerosmith, afi, acceptance, akon, all american rejects, alien ant farm, amber pacific, anna nalick, aqualung, a change of pace, all time low, amy winehouse, asteria, atreyu, the audition, avenged sevenfold, avril lavigne, barenaked ladies, blaque, big city rock, bloodhound gang, bedlight for blue eyes, blackstreet, blue october, bob marley, blaqk audio, boys like girls, breaking benjamin, britney spears, buckcherry, bullet for my valentine, the cab, chery monroe, chris brown, city sleeps, the classic crime, cobra starship, caesars, cartel, cute is what we aim for, craig david, daft punk, danger radio, danity kane, david cook, a day to remember, def leppard, duffy, eleventyseven, eisley, emanuel, envy on the coast, escape the fate, every avenue, faith evans, faggot, fall out boy, family force 5, frontline, five for fighting, fefe dobson, flight 409, flyleaf, forever the sickest kids, girlicious, gary jules, goo goo dolls, green day, gwen stefani, gym class heroes, gorillaz, graham colton band, hanson, head automatica, hot hot heat, heidi montag, hellogoodbye, the higher, him, hinder, hoobastank, the hush sound, imogen heap, jacks mannequin, janet jackson, jeffree star, john mayer, jonas brothers, just surrender, james blunt, jem, jet, justin timberlake, kelly clarkson, kelly osbourne, the killers, katy perry, kill hannah, lfo, lil jon, lily allen, living things, llyod banks, leona lewis, lifehouse, lil' mama, lil wayne, adoona, the maine, marcy playground, marianas trench, maroon 5, matchboox romance, matchbox twenty, mayday parade, the medic droid, medicated kisses, menudo, mercy mercedes, meriwether, metro station, michael jackson, meg and dia, mike doughty, motley crue, my chemical romance, nathan walters, nerd, nelly furtado, new found glory, nirvana, number one gun, october fall, ok go, panic at the disco, pat benatar, pink, paramore, pierce the veil, plain white t's, plumb, the postal service, pussycat dolls, the pink spiders, puddle of mudd, quiet drive, ray j, red, rediscover, ryan cabrera, red jumpsuit apparatus, the rocket summer, savage garden, santana, say anything, the scene aesthetic, scenes and sirens, the secret handshake, shiny toy gums, sing it loud, sixx am, skillet, stereo skyline, silverstein, something corperate, soul decision, the sounds, strata, sugarcult, the streets, there for tomorrow, taking back sunday, the rolling stones, third eye blind, toyko rose, the veronicas, thousand foot krutch, timbaland, under the influence of giants, the used, wakefield, the white tie affair, vanilla ice, you me at six, young love |
| Movies | titanic, across the universe, little miss sunshine, the number 23, donnie darko, juno, the outsiders, all disney movies, awake, queen of the damned, hitch, transformers, the holiday, blood and chocolate, pirates of the caribbean, grease, wedding crashers, a knights tale, my neighbor totoro, the breakfast club, edward scissorhands, pretty in pink, howls moving castle, and many more |
| TV | scrubs, miami ink, celebrity rehab, greys anatomy, drake and josh, a shot at love, pimp my ride, next, score, gene simmons family jewels, trl, i love the 80's, george lopez, two and a half men, yes dear, theres alot more |
Statistics
Web Skills
HTML, Photoshop, Windows